Posted:
July 23rd, 2010 |
Author:
Pietro
|
Filed under:
Not a user
|
25 Comments »
Some of the folks who bought the "I am not a user" t-shirts sent me their pictures, so now here's the first "Not A User Generated Gallery" and a great video.
To celebrate this occasion, two of the first Not-a-User friends (the super cool Clio Zippel and the brilliant Giorgio Cucca) suggested us two new t-shirt designs to help us avoid the word 'user' in our wardrobe as well.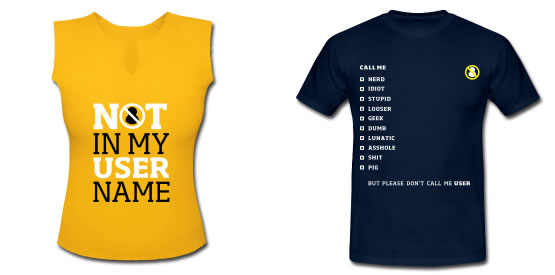 In our shop you can now find  the new models "Not in my USER name" by Giorgio and "Don't call me USER" by Clio, as well as the original  "I am not a USER" t-shirts.
If you have a new idea to spread the "I am not a USER" concept
by way of a t-shirt, please get in touch with us using this contact form
,  this contact form
and we will be happy to send you a complimentary one with your design!
---